Improving your Aim Through A Reflex Sight
A reflex sight is becoming a very important device in activities that involve taking aim at an object. Although the accessory is not so new in the market, its popularity has been growing in the last decade. The sight which is also known as a reflector sight is a visual device that gives the user a better aim at an object. The device projects a reticle image that makes a target standout from the rest. When an object is viewed using the reflector sight, it will appear encircled or illuminated more than its background.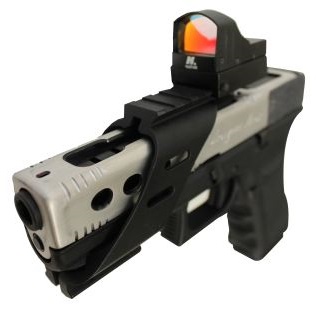 How Reflector Sights Work
The sight works through the principal of optics. An object viewed from the focal point of a curved mirror or lens will appear as if it is right in front of the viewer. Objects outside the focal point will not be as clear. By employing the reflector principle, a user is able to see both the illuminated object which is the target as well as field of view. This is made possible by use of a glass plate which bounces back the image generated by the lens. The reticule always remains constant to the object regardless of the eye position of the viewer.
Types of Reflex Sights
There are many types of reflector sights. The classification will vary according to light source, use, brand names, as well as design. Common classifications are as follows:
Open Sights: – These are also known as mini reflector sights. They operate on a single reflective surface hence are also light in weight. Unfortunately, they do not come with additional accessories such as filters.
Full tube sights: – This appears similar to a normal telescope. It also comes with an optic lens/glass. It may also feature filters to minimize haze.
Small tube sights: – this sight comes with more features such as filters, and adjustments for sunshade.
Battery powered: – This uses battery power for illumination
Fiber optic device use fiber optic technology to illuminate the reticle.
Night vision sights are able to work in broad daylight as well as in the night.
Other variations in the type of sight will include the color of the reticle although amber and red is the most common color. Some devices use triangular pattern instead of the usual circular pattern. Notable brands include aimpoint pro and also sightmark reflex sight.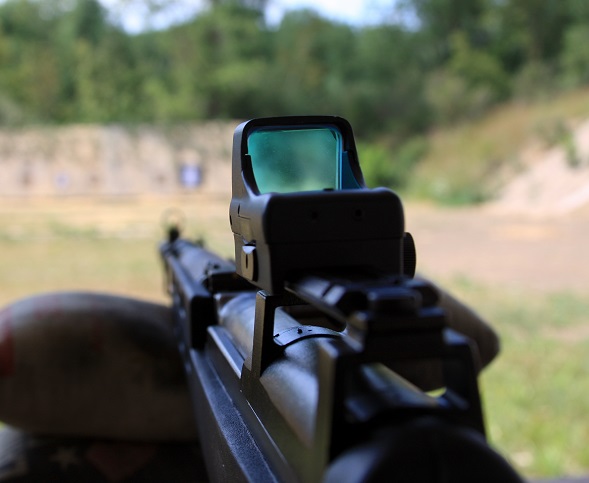 Using Reflector Sights
Reflector sights such as a pistol reflex sight are used in different situations in day to day activities. The device is mounted on pistols, shotguns, sub-machine guns, and much more. The situations will vary from target practice, sporting events, as well as law enforcement. The users include private citizens, law enforcers, as well as military personnel. The most common use of the device in sporting is in games such as air soft, IPSC, animal hunting, digital cameras, paintball, and many other target sports. The sights can be placed at almost any angle without causing any distortion. The distance from the eye to the device will also have minimal effects on the image.
Advantages of the Sight
Reflector sights come with many advantages. However, the advantages will also vary according to the manufacturer. Benefits derived from using a reflex sight are as follows:
Clear images: -Some sights come with the option of changing filters for polarizing, sunshade, as well as haze. This gives the user more clarity.
Efficiency:-Unlike iron sights or telescope, a user can as well use both eyes and still be able to aim as well as shoot quickly.
Effective:-Reflector sights offer a wider angle of view.
User-friendly: Light sources do not affect the sights; consequently the accessory can be used in poorly lit or dark areas.
The sight does not suffer from sighting errors such as parallax which are found in other sighting devices. This is because the reticle is always at infinity and stays aligned to the device on which the sight is affixed.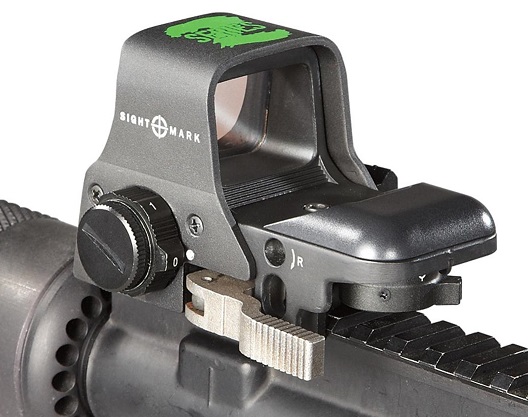 It is important to note that a reflector sight is quite different from a red dot eye, or laser light. The red dot or laser emits a line or dot on the target, but a reflector sight illuminates the target. The device will not only make it easy to view distance objects and take aim, but also adds fun to any target sport. Many types of sights have been developed, with each variety coming with its advantages and disadvantages. It is important to source for the reflex sight from well-known stockiest such as www.scopehaven.com. This firm is known to deal with high quality and reliable gadgets.